Click here to visit their website.
The patented SplitFire "V" design on the side electrode is instrumental in helping to improve combustion efficiency. Because the flame kernel is not blocked by the side electrode as in other spark plugs, it can travel upward through the "v" notch into the combustion chamber . . . That's the SplitFire Performance "V" Advantage.
Now SplitFire's patented split "V" side electrode design is available with three separate points of platinum, substantially reducing electrode wear. What's more, the revolutionary platinum-tipped fine wire center electrode requires less voltage to fire. No other spark plug combines 3 platinum alloy points, the fine wire center electrode and the patented split "V" technology. No other spark plug provides more for the life of your vehicle engine!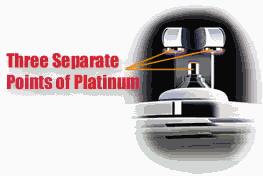 Patented Dual-Mag design incorporates two premium magnetic suppression core conductors which are protected by a layer of braided fiberglass to resist the harshest of underhood conditions. Precision engineered original equipment boots and terminals assure an exact fit and easy installation. Install the wire set that delivers voltage with only 250 ohms of resistance per foot. Questions or Comments call 1-800-224-7584
Copyright (C) 2000, SplitFire, Inc. - All rights reserved. SplitFire is a registered trademark of SplitFire, Inc
Questions or Comments Call (800) 224-7584
---
Island Graphics and Designs
Island graphics and designs & Designs specializes in Race Car lettering, Truck & Trailer graphics, Banners, Magnetic signs. .
Tell them your heard about them from us.
Call 718 885 2489
---
Apache Fishing & Diving
Apache Fishing & Diving, located on City Island, New York, has 3 generations of Captains fishing Long Island sound with over 65 years of experience. Bottom fishing at its best. "If it swims on the bottom, we can catch it...." Blackfish, Flounder, Fluke, Sea Bass and Porgies. Special Striped Bass and Blue fish trips. Sails daily from March to December.
Call (718) 885-0843 for an appointment.