Click here to go directly to JohnCerbone.com complete web siteMAIN SITE.
---
"

.
"It's the hottest Marketing Vehicle in sports."

Why should your company become a marketing partner with JCM Racing?

No other sport or form of advertising can give your business as many 'impressions' as a Nascar race team. When you become a marketing partner with our race team, you are getting involved in the fastest growing spectator sport today.

If you would like more information and rates on sponsorship opportunities, including a mockup of our racecar with your company name on it, send an email to JCM Racing.


Here are a few more reasons to get involved with us.
---
Reason #1: Brand Identification & Exposure
65 million people live in the Busch North Series market area, and over 55 million live within 50 miles of a NASCAR Busch North Series racetrack.
Almost 5 million people watch NASCAR Busch North races on major television outlets like ESPN, TNN, and NESN throughout the Northeast, and across the country.
A race team traveling only 10,000 miles in a season will generate 83 exposures per mile on a multi-lane interstate highway in the daylight. Exciting graphics with your company logo on a team hauler will generate 830,000 exposures of your company.
Depending on your company's level of participation, in addition to the prominent placement on the race car, your company logo or trade mark will be on all team and driver uniforms, racecar, hauler, pit cart, and other equipment in a coordinated graphics presentation.
"In 1998, over 1 million more Americans became NASCAR Fans"
Source: ESPN/Chilton Sports Poll
---
See the excitement of NASCAR Racing!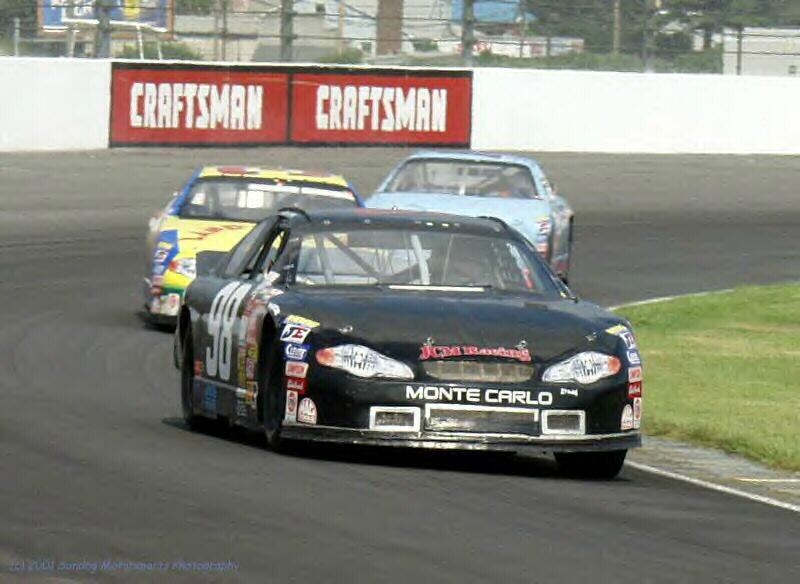 Reason #2: Race Team Appearances
Strategic use of the race car, hauler, and driver appearances with autograph sessions are a proven technique for maximizing exposure at new branch openings, sales meetings, company outings, and company participation in charity events.
We can do "On Site" appearances or we can attend trade shows like this one from the 1999 SEMA Show in Las Vegas.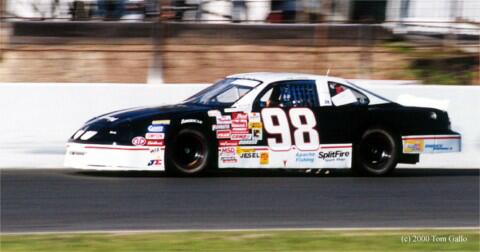 Your company name could be displayed on the sides of this racecar.
---
"Mattels's hottest collectible Barbie last year was NASCAR Barbie - more than one million units, generating about $50 million in revenue"

Source: Fortune Magazine, 4/12/99.
---
Reason #3: Customer & Employee Relations
NASCAR Busch North Series races are an event, and like a golf tournament, they are a perfect place to entertain clients, customers, and employees in a positive, success oriented environment.
The opportunity to rub elbows with the drivers of NASCAR at a hospitality event is one of the key fan-favorite success factors of NASCAR Busch North Series racing.
Successful Organizations Use NASCAR Busch North Series Hospitality to:
Attract new customers.
Reward their best customers.
Motivate their employees through sales incentive programs.
Reward top performers.
Build an image as an exciting place to work.
"In 1998, over 400,000 people attended NASCAR Busch North Series races in the Northeast"
Source: NASCAR Busch North Public Relations Dept.
---
Reason #4: Media Opportunities
Television is an integral part of the success of NASCAR Busch North racing through ESPN, TNN, NESN, The Speed channel and the emerging presence of FOX TV. In addition to national and regional coverage, some races are carried on local cable systems like New England Cablevision and Mediaone.
"4.7 million people tuned in to NASCAR Busch North races on TV"
Source: TNN, ESPN Marketing Information dept.
Newspapers are a traditional part of motorsports coverage, and reporters and photographers from every local and regional paper attend all NASCAR Busch North races.
Radio plays a part in garnering additional exposure from coverage of races, and through interview and call in programs all over the Northeast.
Websites are proliferating throughout motorsports as quickly as they are everywhere else in our society. Every track in the Northeast now has a website with many reporting thousands of hits each week. Your company's participation in the NASCAR Busch North Series should be included on your company's website to draw fans to your website on a weekly basis.
Here is how we help market and promote your business via the Internet:
Your company logo will be displayed on our HOME PAGE
Your company will be listed on our SPONSOR PAGE.
You will have an entire page on our site dedicated to your COMPANY.
Getting involved in NASCAR, by sponsoring a race team, offers you all of these advantages and then some. Nascar fans are the most brand loyal fans in the world.
---
Reason #5: NASCAR Fan Demographics:

Martial Status
- 64% are Married
- 22% are Single


Gender
- 38% are Women
- 62% are Male


Income
- 7% earn Less $10,000
- 14% earn $10-$19,000
- 17% earn $20-$29,000
- 19% earn $30-$39,000
- 14% earn $40-$49,000
- 29% earn $50,000+

---
We have standard packages that accommodate most business goals. If one of these packages doesn't seem to work for you, we will customize a plan specific to your goals and expectations.
If you would like more information on sponsorship opportunities, including a mockup of our racecar with your company name on it, send an email to JCM Racing.
Contact Us at:
Snail Mail:
JCM Racing * 168 Fordham Street * City Island, New York 10464 * (718) 885-2489
eMail:Sponsor Contact

01/16/2002

NASCAR: We're No. 2!

By Chris Jenkins, USA TODAY

CONCORD, N.C. — All together now, NASCAR fans: We're No. 2! We're No. 2! We're No. 2! In a state-of-the-sport panel discussion on Wednesday, NASCAR executives tried to make the case that theirs is America's second-favorite sport, trailing only pro football in popularity. They backed up their argument by citing television ratings that compare favorably to those of other sports and a recent NASCAR-commissioned fan survey that said 37% of the American population follows NASCAR racing to some degree. "It's clear right now that NASCAR is the No. 2 sport in the United States," said senior vice president George Pyne. NASCAR has grown tremendously in the past decade. But a sports marketing expert says TV ratings aren't the only measurement of a sport's popularity. David Carter, principal of the Los Angeles-based Sports Marketing Group, says the NFL is a clear-cut No. 1, but determining an exact pecking order for other sports is difficult.
---
We'll See You at the Track!
Copyright JCM Race Engines, All Rights Reserved.

Home Page
2001 Race Schedule * Team Stat's * Drag Racing * Photo Gallery * Sponsors * The Team * The Tracks * Racing News *