Kimberly-Clark Corporation - Scott Do-It-Yourself Business.
and

Click here to visit the Kimberly-Clarke website.
All Business, Shop, warehouse, Office, Team managers and supply personnel should click here for the K-C Professional website to see the wide variety of products available in an even wider variety of sizes and dispensers.
Some of their products include Wipers, Dispensers, Retail Products, Washroom Products, Protective Apparel, Skin Cleaners and Shop Towels.

Personal favorites of the JCM Racing Team are Rags in a box, Shop rags on a roll, Shop Rags in a box, Krew 500 pop ups and the Super Duty Cleanser with Grit! For more information or for the Kimberly-Clark distributor nearest you, call 800-443-4231(press 1).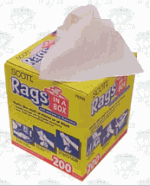 Rags In A Box, The JCM Racing Favorite! Strong durable Towels in a 200 count box.
NATURALLY TUFF Orange Hand Cleaner with Grit is designed to remove tougher grime without water. Contains polymer beads for scrubbing without the abrasion associated with other grits. Has a fresh, citrus scent.
WYPALL® X80 is made using patented HYDROKNIT® Fast Absorbing Material: absorbs oil and water. Can be used for heavy duty & part wiping, wiping metal shavings, prepping surfaces with solvents, cleaning rough surfaces. Orange color.
SANI-TUFF® Wipes-in-a-Bucket Pre-moistened hand cleaning wipes are waterless and ideal for hand cleaning anywhere. Now in 90 count bucket and 50 count canister.
Click here to visit their website.
Scott Shop Towels and Scott Rags In A Box are trademarks of the Kimberly-Clark Corporation.
---