K&N Air Filters.
Click here to visit the official K&N Filters website where you can view all the K&N Products and get technical and ordering assistance.
.
A Revolution In Air Cleaner Technology The Flow Control System utilizes a newly designed base in combination with a unique lid, featuring a tongue or protrusion, that reduces intake turbulence. The resulting smooth, laminar flow enhances cylinder filling, horsepower, and torque. The filter element is the world famous K&N Filtercharger¨ for the ultimate in airflow and filtration. The result of this powerful combination is a typical 20HP increase on a 350 cu. in. engine.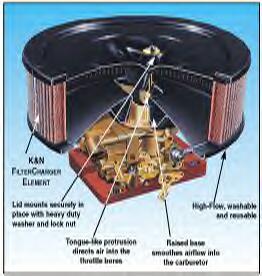 K&N gives you the power you've been looking for with the new X-Stream® Air Flow Top. Offering an excess of 525 additional CFM of airflow, K&N's X-Stream® Air Flow Top is the only choice for serious racers.
Not only does the X-stream® add filter area, it actually redirects airflow inside the filter to pull in more air through the side pleats for even greater performance efficiency. Cleanable and reusable, the XStream ® Air Flow Top filter delivers the best protection available for your engine, and comes in a wide range of applications. Sizes include 9-, 11- and 14-inch diameters. The 14-inch tops are available in anodized black, red, blue or polished aluminum trim ring.
---
K&N Oil Filters.
What makes K&N oil filters better? The K&N Performance Gold® Oil Filter has been constructed from the ground up to satisfy the high performance needs of race car owners and drivers, as well as the average vehicle owner who wants the very best oil filter available. Our oil filter's efficiency rating meets or exceeds the requirements of high performance automotive engine builders. The heavy duty construction provides over 550 PSI hydrostatic burst*, and helps reduce the risk of rock and stone damage. The real quality isn't just on the outside... the inner filter element traps contaminant as small as 10 to 20 microns in size. We use metal top end caps instead of paper to ensure that no unfiltered oil can get back into the system. The solid construction allows for oil flow rates between 12-16 gpm (depending on filter size), and is unaffected by racing fuels. All K&N Performance Gold® Oil Filters are manufactured to exacting engineering standards. They are covered by a limited warranty to be free from defects in materials and workmanship when installed and replaced using engine and equipment manufacturers recommended service interval. *Based on HP-3001 performance test

Click here to visit their website.
Copyright K&N Engineering.
---